August 18th, 2012
By: Dr. Steve Hannant @SportsShrink
This Saturday @StrikeForce on @SHOsports #TakeDownTate fights the #Fireball @julesk_fighter and via @Twitter you will see that the @MieshasArmy tweeted the Channel Guide. @MieshaTate 's 8/18 fight on Showtime Extreme! DirectTV: Ch. 549; DishNetwork: Ch. 322; Cable: Check Listing.
Study each fighter yourself…
#TKO WIN via @MieshaTate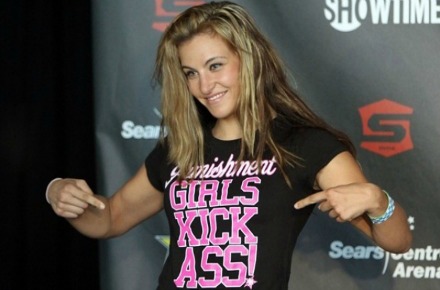 Why Miesha "Takedown" Tate?
Inside Miesha's MIND
Excerpts from former and anticipated future Champion Miesha Tate's recent Mental Preparation Q&A session have been selected to exemplify the value and usage of her mental preparation. Here, Miesha defines mental preparation:
The application of mind over matter. Believing leads to achieving, training to have a positive mindset makes a difference.''
When questioned about mental preparation used in the sport of Mixed Martial Arts (MMA) at the highest level of professional competition Miesha shows a mindset consistent with what research says separates the best from the rest. She equates the importance of mental training to physical training as stated:
For me mental preparation is just as important as physical preparation in MMA. I personally believe more of the challenge is mental than physical or anything else.
Research and ongoing studies with successful individuals teach us that the will to prepare to win is more important than the will to win. There are many famous quotes that emphasis the importance of how mental preparation affects your performance. Again, Miesha Tate shows us the mindset that separates the best from the rest when describing her own value of mental preparation:
I think without mental preparation I would be a completely different fighter, I think by training my mind to do and believe what I train it to then I can stay mentally strong for anything that can happen in a fight.
The study of elite athletes and successful individuals identifies specific traits that lead to optimal experience and peak performance. These characteristics distinguish individuals who are considered outstanding versus others considered significantly less than outstanding.
When assessing Miesha Tate's understanding of these characteristics she discussed the critical mental attribute of confidence:
 The athletes who are outstanding seem to have a calm sense of confidence about them, they know they have what it takes… They believe they do so much they can actually defy the odds and they don't second guess themselves.

Confidence for me comes from the right mental and physical training. If I know I am prepared then I leave no room for doubt, only confidence
Miesha Tate's Mental Game
Mental preparation tools vary just as the athlete's preference for certain types of tools varies. When inquiring about specific mental training used by Miesha, she discussed 5 critical tools – Visualization, Goal Setting, Breathwork, Relaxation, and Meditation:
Visualization
I'm a fan of visualization, I try to take myself to the actual fight before it ever happens hundreds of times in my mind during my training camp, I close my eyes and visualize the many ways I would like to win the fight. The heat of the fire when I walk out the beat of the music and the roar of the crowd, I try to see it in my mind and feel it in my soul and I use that to drive my motivation when the going gets tough in training.
Before competition, "I simply visualize victory, I focus on only positive energy and thoughts and I concentrate on pushing any doubt or negativity out of my mind, it's a very cleansing process, sort of an active meditation.
Goal setting
I'm a naturally competitive person so goal setting is something I do everyday while training, for instance, I set small goals such as running faster than yesterday and big goals like winning my fights.
Breathwork
Controlling breathing controls your heart rate and that is crucial for recovery between rounds, in MMA we have one minute to come as close to full recovery as possible, I practice doing this in preparation for my fights.
Relaxation exercises
When I simulate the fight I practice for 5 minutes very intensely and then I sit and close my eyes and control my heart rate to get it as low as possible during that minute. I take deep breaths and do it again.
Meditation
Meditation is a mental tool shown to be effective across all fields of well being including mind, body and spiritual. When inquiring about Miesha Tate's use of Meditation she reported her use of active meditation being utilized while training or when resting during her interval training regimen.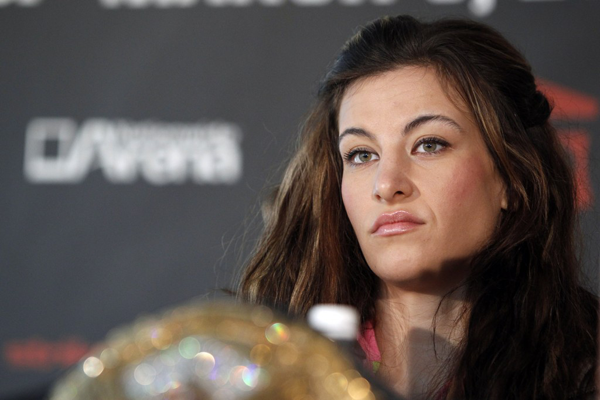 Miesha Will Be Champion… Again!
Miesha "Take Down" Tate is mentally prepared to "Take Back" the title belt. Research has identified the critical qualities of elite athletes and peak performance.  The results have identified many psychological skills and characteristics related to success. These include Miesha's mental training tools: Visualization, Goal Setting, Breathwork, Relaxation, and Meditation.
After analyzing Miesha Tate's Mental Preparation Q&A it's clear she has what it takes to regain her Championship Belt and once again be the #WMMA Champion of the World.
Miesha "Take Down" Tate is Awesome for MMA
Miesha Tate exemplifies why the sport of MMA is the fastest growing and most exciting sport in the World. As the sport continues to gain acceptance and respect locally and worldwide, athletes like Miesha are key to the successful expansion. Miesha Tate represents Mixed Martial Arts in the best way possible, that is, as an "Art" that involves the Mind & Body and Spirit.
Sponsors need athletes like Miesha Tate…
Elite athlete
Highly qualified
Great role model
Physically disciplined
Mentally disciplined
Future Champion…Again!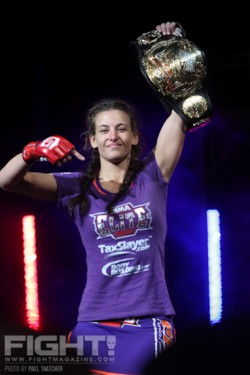 Get Mentally Strong like Miesha & Succeed