Dr Steve @SportsShrink spends 1 week inside @TeamQuest Headquarters
Day 1
The Arrival
The first thing my family and I learned was the Team Quest generosity and family atmosphere. We arrived at PDX Airport and were pleasantly surprised to be greeted by Matt Lindland's daughter and future dentist Robin @Super_Twig driving our ride for the week, a Cadillac Escalade. We enjoyed the direct ride to the Team Quest headquarters and were given the keys to the Caddy.
Team Quest has style and is generous.
Entering the Team Quest headquarters I was even more impressed than expected. Upon entering the gym I was immediately surrounded by legendary fight posters covering the wall and displays of the iconic Team Quest fist logo throughout the gym floor, mats, and walls. The gym is large and well equipped with multiple training rooms that included MMA trainings, @FitQuestWOD training, and TUFF kids classes. In the main lobby we were greeted by some of the Team Quest family, Team Quest and @DirtyBoxer1 gear lining the walls, and a spectacular Team Quest trophy case full of Championship prizes.
Team Quest has Championship Tradition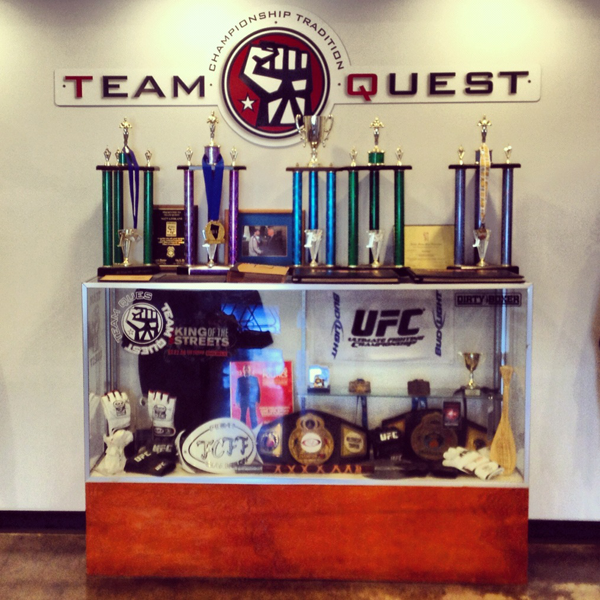 After being in awe of the very cool Team Quest and Dirty Boxer athletic apparel and trophies the Team Quest family immediately stole the show.  We were introduced to the legendary Team Quest founder, Elite athlete and Coach @MattLindland, his wife Angie @ALindland, General Manager @ScottMcKendry, and the multitalented Aaron @Sport_Fight. The energy produced by this Team Quest clan was high and the positive aura of the bunch was easily felt. As we continued to meet and greet the daily MMA professional class was coming to an end. Following their intense workout fighters stopped by the lobby to say hello and introduce themselves. Every athlete we met was respectful and displayed a great attitude.  Team Quest is known for its rough tough ground game and mean boxing fighting style. You can witness this at any time by watching them train and just by looking around their hard-nosed gym. However, more impressive than their physical toughness and skill was their sense of comradery and value of family. Needless to say, we were all impressed with the hospitality and Team Quest vibe.
Team Quest is a family and a tough one at that.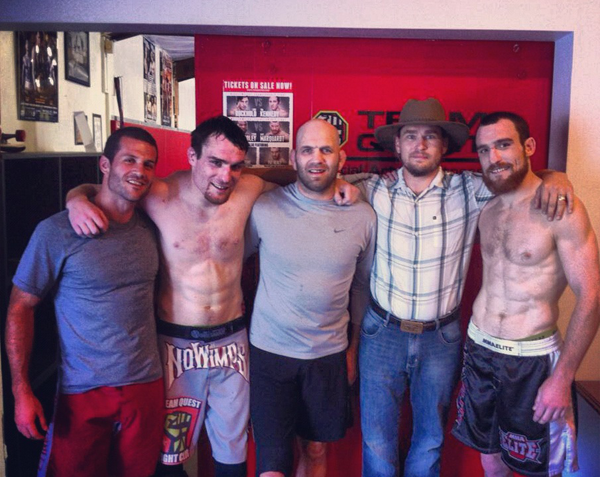 Day 2
Freedom Farm
The morning started with an early outing to the home of champion contender Pat @BamBamHealy. Upon arriving to the beautiful Eagle Creek Freedom Farm location we were greeted by a large security locked fence and we were granted access. After traveling down the long dirt road cutting through huge towering Oregon trees we found the residence of Future Champ Pat "BamBam" Healy.
The next couple of hours we spent touring the Freedom Farm with Pat Healy warrants a blog in itself and will be featured before BamBam's next fight and Championship bout.  In short, the time-shared was magical as Pat "BamBam" Healy is a stand up guy with a storybook home setting.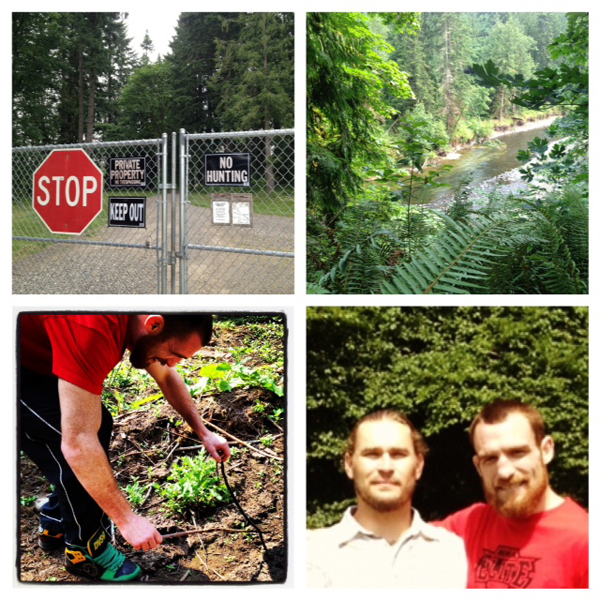 Mental Training Program Workshop
Later that day the Mental Training Program workshop at Team Quest headquarters was held. The turnout was great and again a wonderful display of Team Quest unity. In attendance were men, woman, kids, athletes, coaches, pros and amateurs, and fitness enthusiasts. The workshop went well and it was a pleasure speaking and conducting demonstrations on mental training at the great Team Quest.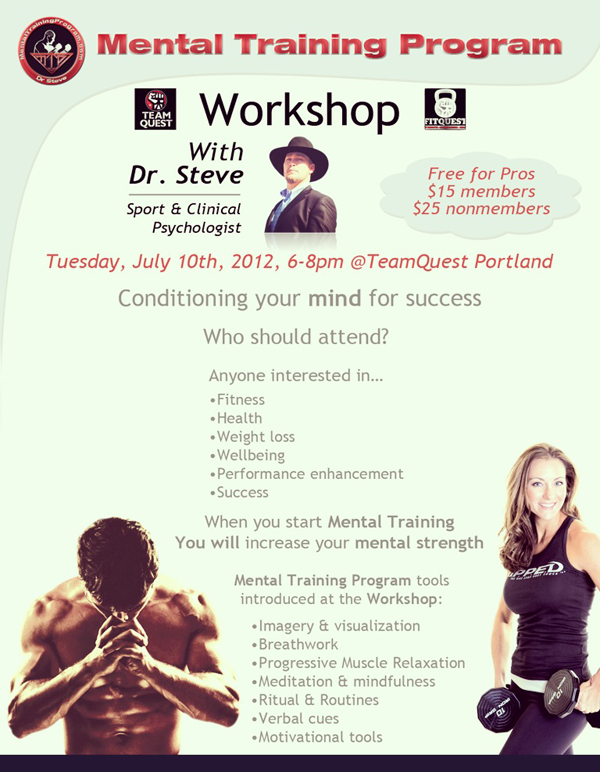 Day 3
Lunch
The next few days consisted of a similar itinerary, that is, taking classes at Team Quest and meetings. The first meeting was a memorable ringside lunch with the legend Matt "The Law" Lindland and the Team Quest general manager, Scott McKendry. Lunch was great and the presence of an Olympian and future MMA Hall of Famer always makes for great conversation. We focused on the expansion of Team Quest and the passion and vision of their leaders, Matt Lindland and Scott McKendry, was evident. The meeting was highlighted with "The Laws" humorous story telling and classic MMA tales.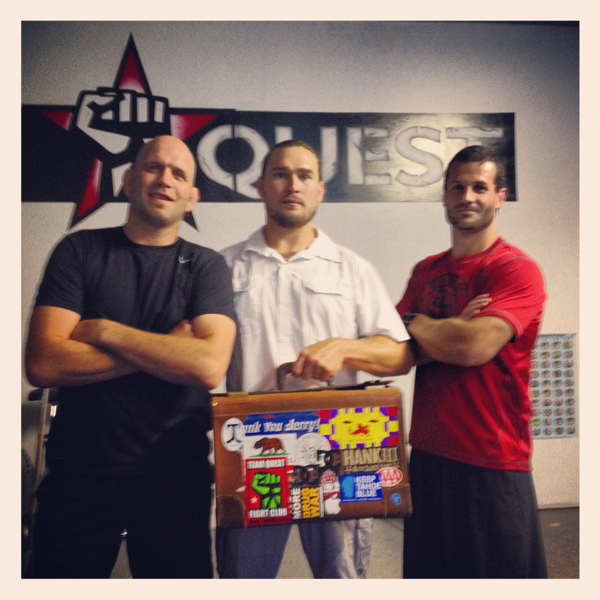 MMA Training
Later that day and on to the next day we were given the Team Quest VIP all access pass to the gym. The schedule consisted of boxing and submission classes for myself, FitQuest classes for my wife, and TUFF kids classes for our children. I thoroughly enjoyed the boxing class and the submission wrestling class taught by Matt "The Law" Lindland. It was a great learning experience. The legend's words still echo in my head, "push and move."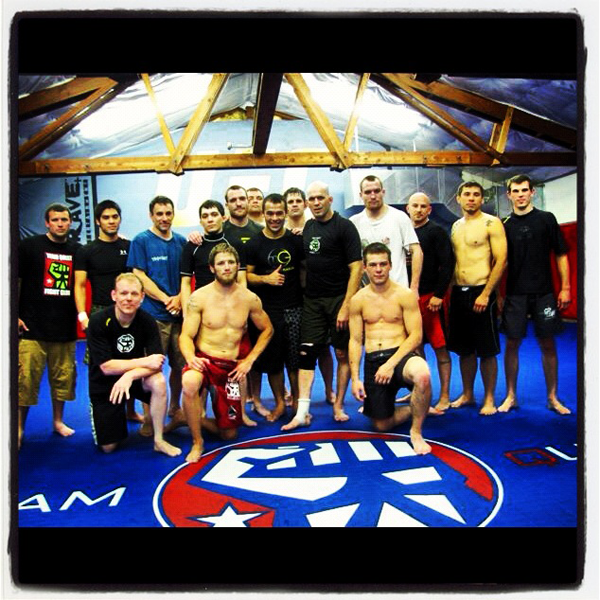 Day 4
@FitQuestWOD & TUFF (Training Up Future Fighters)
FitQuest & TUFF was awesome. Team Quest's training was about working hard but also developing an appreciation for martial arts. My kids awoke each morning asking when we were going back to Team Quest and would spontaneously break out in chant "Team Quest." My wife loved the FitQuest classes and only wished @Scott McKendry ran those classes in our hometown. Our child summed up our Team Quest classes experience perfectly:
"Dad will you build me a Team Quest gym at home, for Christmas?"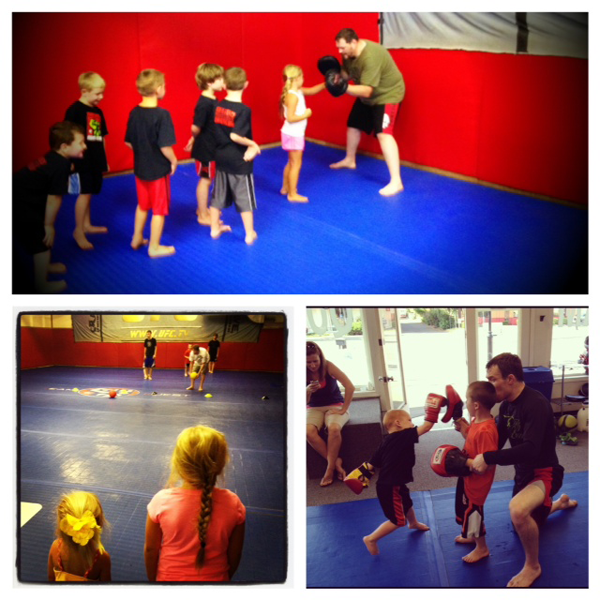 Our training experience @TeamQuest was exciting and filled with intense workouts and it increased my respect for the day-to-day gym operations and expertise shared by the Team Quest coaches and members.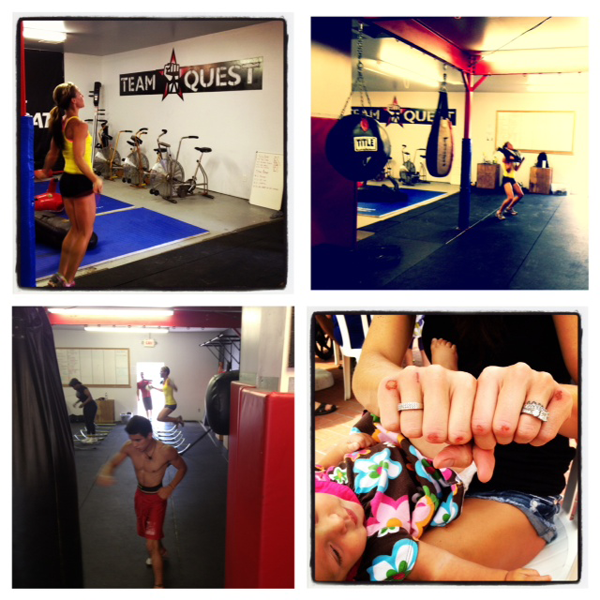 Day 5
Weigh-Ins
After days of classes we headed to the @StrikeForce Weigh-ins. The weigh-ins went great as Team Quest star Pat "Bam Bam" Healy was right on track, making weight, looking strong and outsizing his opponent on the stage. It was great to see a large crowd in attendance and in support of their hometown fighter including Pat's super tough twin brother @DiamondRyan1 Healy. It was also great to see many of the fighters sporting the local @DirtyBoxer1 gear.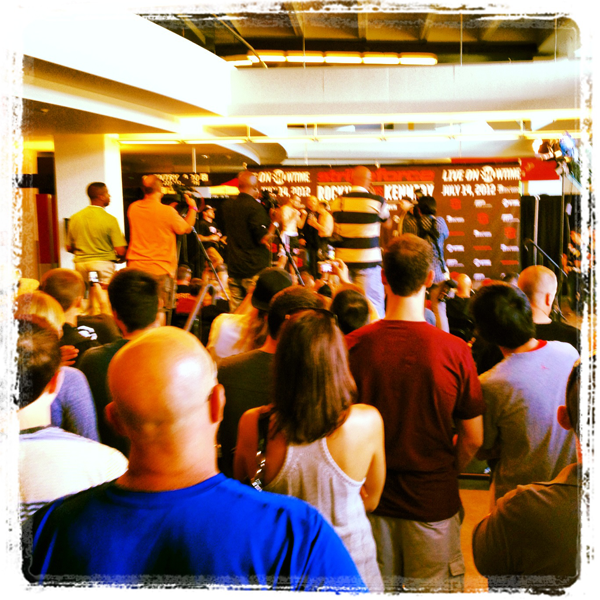 Dinner
Following the weigh-ins we headed out for a family dinner with upcoming MMA star @ChrisBarnhizer and his finance McKenzie. Dinner conversation ranged from business and training talk to stories about family and raising kids. Dinner was enjoyable and it was evident that Chris and his finance make a great team and this is key for relationship, especially for a professional athlete. Chris is preparing for an upcoming August 4th fight and displayed impressive poise throughout dinner, as did McKenzie, especially when faced with an unexpected "Dr Steve Test." The details of this dinner tale will remain undisclosed and only available to those fortunate enough to know how to get the inside scoop. Needless to say, both Chris and his finance passed the test!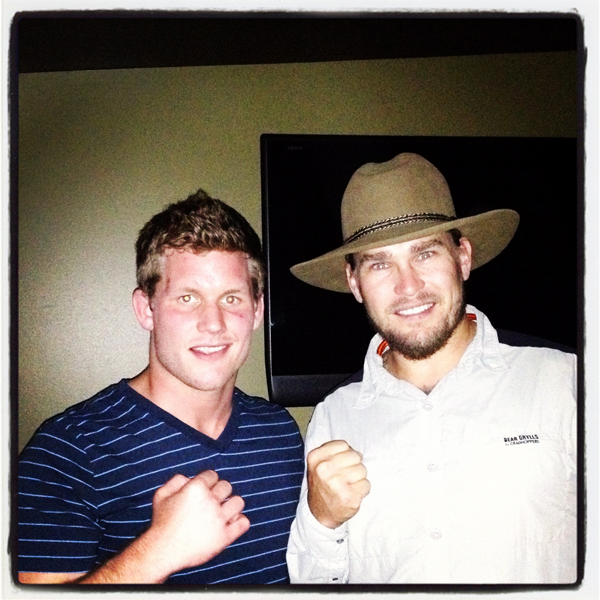 Day 6
Eagle Cup
The day we had been looking forward to for weeks had finally arrived. Our entire family had been cross-training at home in preparation for the Team Quest Eagle Cup and were excited. Saturday morning we headed up to Eagle Creek in search of the Matt "The Law" Lindland Family Farm. When we approached the view only got better. The Law's home site was on numerous beautiful acres filled with trees, rolling hills, gardens, pastures, mountain views and positive energy. Horses watched as cars pulled in and the crowd gathered for the upcoming race.
Waiting for the race to start we met Team Quest friends and family members of all ages out enjoying a great day of fitness fun. As the start time neared we were instructed by our fearless leaders Matt Lindland and Scott McKendry. I can still remember The Law drawing the course map in a hilarious way only to confuse the newbies and lighten the prerace jitters. Scott was also providing trickery by informing the group with instructions of what to do in case of a bear or mountain lion, "Make yourself look big" he said. The course included a run up hills, through woods and trail, a rope obstacle course, and the famous gator pond dive that included retrieving a "gator trap."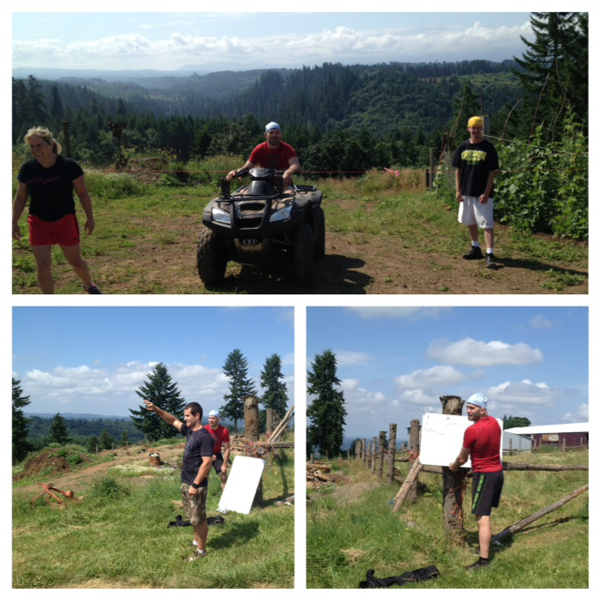 The race was most enjoyable and every adult and child survived and had a great time. Once again, Team Quest showed an awesome display of making competition fun and family oriented. It was an awesome morning and a great way to open up for Fight Night.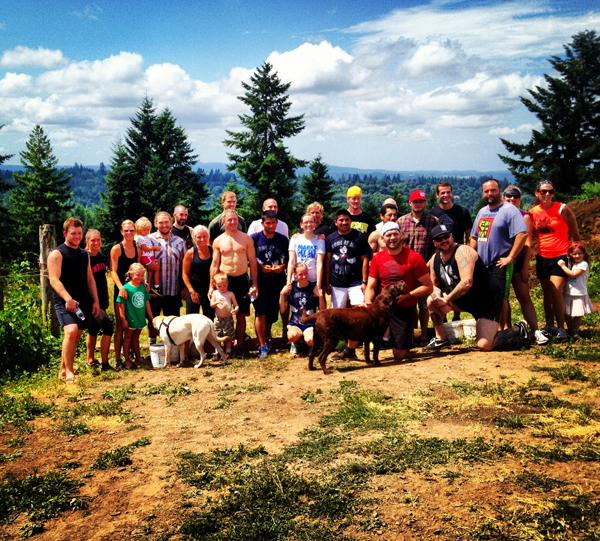 Fight Night
Fight night was incredible. The Rose Garden was filling up and Team Quest blessed us with SkyBox suite tickets. We were lucky to be watching the fights with the Team Quest crew and everyone was stoked for the BamBam Healy show.  It was a great night of fights and of course the main event for the Team Quest crew was most thrilling. The final decision was right on this night as Pat "BamBam" Healy was awarded the victory. This win was huge because BamBam earned his right to fight for the upcoming championship belt. Overall, the evening spent with the Team Quest in the SkyBox at the Rose Garden was great and Pat @BamBamHealy win made everything Awesome.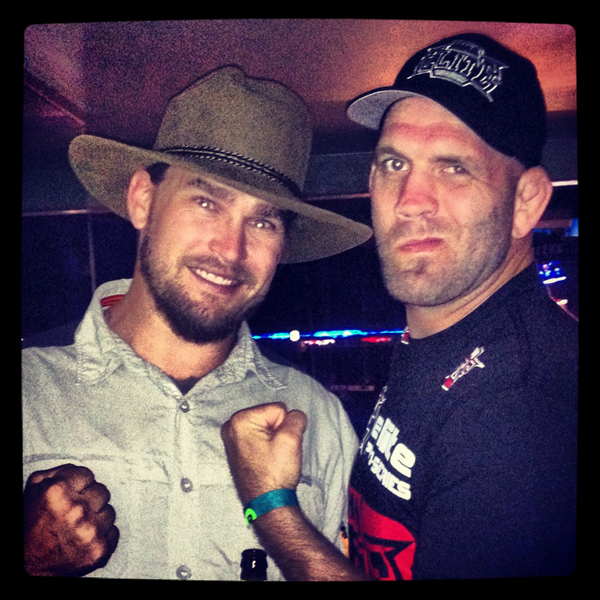 The End
The trip ending was as great as it began. I was fortunate enough to have dinner with the Future Champ Pat "BamBam" Healy. Ruth Chris streak house is just what the doctor ordered and @BamBamHealy enjoyed a well-deserved Cowboy Ribeye Steak after a great performance and rigorous training camp filled with intense mind and body training.  Look out for BamBam this September 29th 2012 as he is scheduled to fight for the Championship Belt.  Pat "BamBam" Healy is to execute his target and take the Championship Belt back home to @TeamQuest and Eagle Creek Freedom Farm.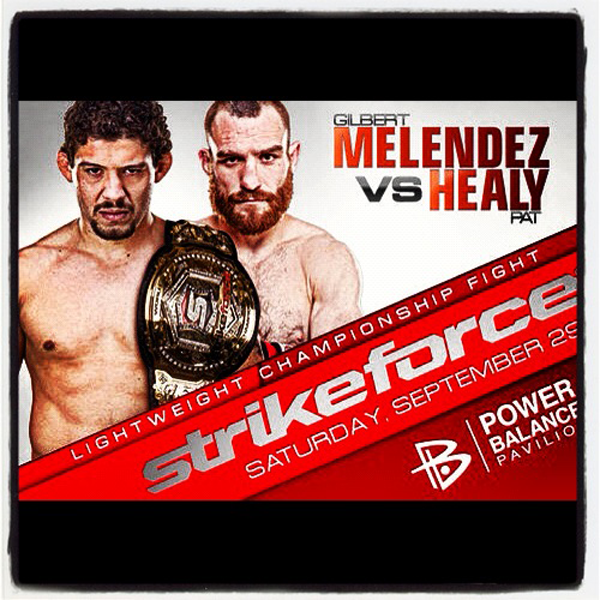 Thank you Team Quest
I want to thank again Matt, Angie, Robin, Scott, Aaron, Chris, McKenzie, Pat, Ryan and the entire Team Quest team for an incredible trip.
Do you think you can handle the Mental Training Program that top professionals like @BamBamHealy Championship contender, @DiamondRyan1 & @ChrisBarnhizer master?
Then take the FREE 5-day challenge…